KKK

Castle Lapidarium in Český Krumlov
The Castle Lapidarium is located on the I. castle courtyard courtyard under the northern wing of the New Burgrave\'s House. The Lapidarium interior is at basement level from the north, while from the south it is deep under the level of the courtyard. This Lapidarium, together with the cellars of Prague Castle, is unique in the castle architecture of all of Central Europe.
The main cellar area, originally unified, is 48 m long and 8.5 meters high, while the wagon vault of the cellar is 4.6 m high at its peak. The room has retained its Renaissance appearance up to the present. In the 16th century the cellars served as stables, and according to archival information up to one hundred horses could have been kept here. The window segments are five-sided, confirming the Renaissance origin of these rooms which were built around 1580. The western part of the cellars were modified by a younger Baroque wall which now divides the area. There is access to other cellar spaces from the eastern side which, as archival sources indicate, were used as a prison in the 19th century. The present-day entrance to the cellars is original, and was separated from the I. courtyard by a moat in the 16th century. This moat was localised during archaeological excavations in 1997 in the area of today\'s carriage houses.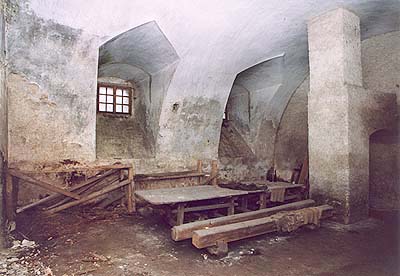 The recent reconstruction of these spaces revolved around the fundamental philosophy of respecting the original spaces:
protecting the original construction as much as possible
preserving the character of the cellars
installing the new functions into the layout while respecting the preserved constructions
and applying conservational methods during the renovation of the wall and vault areas
The spaces have been newly arranged and are now used as a lapidarium, where all originals of castle statues have been placed following their on-site replacement with replicas. The Castle Lapidarium now serves as an independent expositional space, accessible by the public.
Individual statues in the Castle Lapidarium exposition :
(as seen from the main entrance)
St. Joseph with baby Jesus

Original location: bridge over Bear moat
Author:Jan Antonín Zinner
Year: 1759

Joseph was originally a carpenter or builder. He was engaged to the Virgin Mary who already carried a child in her womb conceived by the Holy Ghost. Joseph\'s doubts were dispelled by an angel who appeared to him, and he took Virgin Mary as his wife. After Jesus\' birth they all three fled to Egypt and saved themselves from the persecution of king Herodes. After death of Herodes they settled in Nazareth in Galilee. Joseph is also mentioned as a faithful guard and helper in an episode of the twelve-year-old Jesus lost in Jerusalem. Joseph\'s name-day is March 19.
Virgin Mary Immaculate

Original location: bridge over Bear moat
Author:Jan Antonín Zinner
Year: 1759
Attribute: globe with snake and crescent moon

The Virgin Mary was a Jewish girl to whom an angel manifested and announced that she would conceive, through the power of the Holy Ghost, a son Jesus who would be the son of God. God saved her from the blemish of the first sin and her immaculate conception has been worshipped for centuries. Mary was married to Joseph and set off to Bethlehem where Jesus was born. Legend holds that Mary remained a virgin for all her life. She died probably in Jerusalem or Effes and God took her, soul and body, to the upper regions. Virgin Mary of the immaculate conception celebrates her name-day on December 8.
St. Felix of Cantalice

Original location:Cloak Bridge (Plášťový most)
Author:Jan Antonín Zinner
Year: 1756
Attributes: Verge and satchel

Felix was born in a farmer\'s family in Cantalice in Apulia, Italy. He spent his childhood as a herdsman and horse-groom and later became capuchin layman in the nearby monastery Citta Ducale in Anticola. He gained a reputation for his innocence and devoutness. In 1549 he was dispatched to Rome and he spent the next 38 years as a bursar in a monastery where he also helped sick and poor people and was worshipped by all. He was friend of St. Philipp Neri and assisted with the transformation of the Order of St. Charles Boromea. He died in Rome in 1587, was canonised in 1712 and his name-day is May 18.
St. Antonio of Padova

Original location:Cloak Bridge (Plášťový most)
Author:Jan Antonín Zinner
Year: 1747
Attributes: Jesus (and lily)

Antonio was born in Lisbon in 1195. He was regular canon, studied theology in Cumbria and entered the Franciscan order. He was sent on to Morocco as a missionary to evangelise the Muslims. Upon his return he lived as an anchorite near Forli in Italy. He became a renowned preacher and teacher, and his teachings had a great influence on both common people and wise men. Some texts of his teachings have survived up to the present. He died in 1231 and his grave in Padova grew into a popular place of pilgrimage. There are many miracles ascribed to St. Antonio. He was canonised in 1232 and his name-day is on June, 13.
St. Wenceslas

Original location:Cloak Bridge (Plášťový most)
Author:Jan Antonín Zinner
Year: 1747
Attributes: guidon and shield

Prince Wenceslas (Václav) from the Přemysl family was born in app. 907. He was educated by his grandmother, St. Ludmila. He also received a considerable education by clerics from the Latin school in Budeč. He became a religious and wise ruler who tried to avoid conflicts with Bohemia\'s stronger neighbours and periodically paid them finances, so called "tribut pacis", only to avoid war. His policy had many opponents, led by his brother Boleslav, who ultimately decided to solve his contentions with his brother in a rather extreme fashion. Once he invited Wenceslas to his residency in Stará Boleslav to celebrate the feast together. The next morning, when Wenceslas was entering the church, he was assassinated by Boleslav. St. Wenceslas has been worshipped as a sufferer and patron of Czech lands since as early as the 10th century. His name-day is September 28.
St. John of Nepomuk

Original location:Cloak Bridge (Plášťový most)
Author: Jan Plasker
Year: 1727
Attributes: crucifix John of Nepomuk was born in app. 1345

Until 1380 he was a notary in the general vicariate of Prague archbishopy. He studied ecclesiastic law in Prague and in Padova, Italy where he obtained a doctorate. He then returned to Prague where he became the canon of the Vyšehrad chapter. Later he was inaugurated by archbishop Jan of Jenštejn to the function of general vicar. Legend holds that he was the confessor of the wife of king Václav IV. and because he refused to reveal confessional secrecy, the king had him tortured and finally drowned in the Vltava river. But the reality was different. The king solved contentions with the archbishop Jan of Jenštejn this way. John of Nepomuk died as a martyr in Prague on March 20th 1393. He was canonised in 1729 and his name-day is on May 16.
| | |
| --- | --- |
| Original location: | cascade fountain in castle garden |
| Author: | created by sculptors Jan Antonín Zinner from Vienna and Josef Matyáš Griessler from České Budějovice based on sketches of Andreas Felix Altomonte |
| Year: | 1749 - 65 |
| Material: | shell limestone mined in Eggenburg and Mannesdorf, Austria |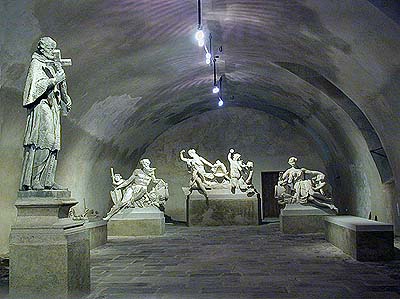 River god Akis with paddle and child
The bearded river god Akis is sitting on flat stones. He has a laurel on his head and a harvest in front of him - grapes, corn sheaf, vegetables and reed. With his left hand he is leaning on an overturned urn and in his right hand holds a paddle on which a naked boy is leaning. River god Akis was killed by his rival, the jealous one-eyed giant Polyphemos, because Akis loved the nymph Galateia. After his death Galateia transmogrified him into a river god from whose body water streams. Water is streaming from the urn, also his attribute. Another attribute of the river god is a paddle.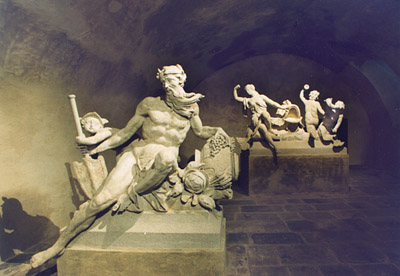 Sea nymph Galateia with dolphin and tritons
This female figure from the central statuary has a mace in her right hand, a symbol of rule, and her left hand is placed on a dolphin\'s head. Water spouts from the dolphin\'s head. The statuary is also completed with a couple of tritons - boys with dancing fish tails instead of legs who wind the shells during festivals. The nymph Galateia is a figure from Greek mythology. This nymph was the daughter of the sea god Nereos whose daughters were called nymphs or Nereides. Nymph Galateia was loved by the one-eyed giant Polyphemos who was jealous of his love rival, Akis. The giant Polypheme hurled a big stone at Akis and killed him. Galateia transmogrified Akis\' blood into spring water and himself into a river god.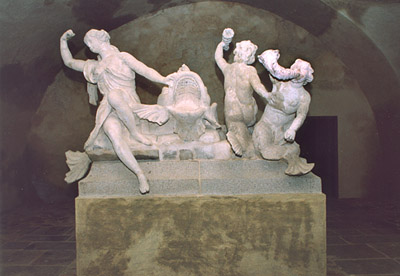 Nymph with pearl and Silenos
This sitting nymph holds pearls in her right hand while shells with more pearls are placed under the same hand at her foot. Near her left side is Silenos, a boy with goat legs and hooves.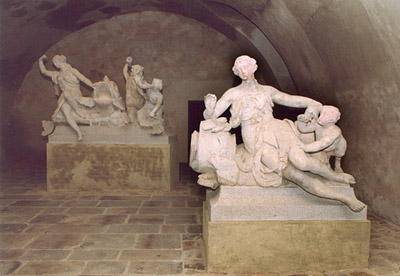 Sculptures of fishes and frogs
These sculptures decorated the first fountain cascade in the Castle garden. Water spouted from their mouths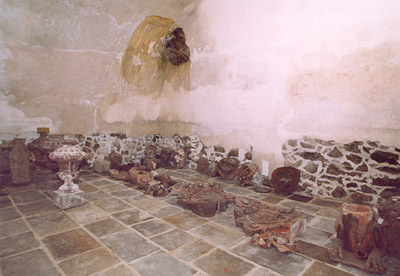 Information on facilities and space rental at the Český Krumlov Castle complex
Further information:
History of Sculpture in Český Krumlov
History of Sculpture in the Český Krumlov Region
Jan Antonín Zinner
The Cascade Fountain
Opening Hours and Guided Tours + Services at Český Krumlov Castle
Guide to the Český Krumlov Castle Complex
Cellar on the II. Courtyard of Český Krumlov Castle