KKK

Schwarzenberg Guard
The establishment of the Castle guard was initiated for representational purposes by Adam Franz zu Schwarzenberg at the beginning of the 18th century in Hluboká nad Vltavou castle. The guard was moved to Český Krumlov in 1742. The space of the former "Buchhalterie" on the IInd Courtyard of Český Krumlov Castle was at the guard members disposal, while the guardsmen performed their sentry duties on the Courtyard and in the Castle Tower (Castle No. 59 - Castle Tower). They assisted with the floating logs and grain harvesting at the courts. Their other tasks included escorting the seigniorial cashbox during travel as well as criminals, and frequently held a real military function. Some of them held second posts as scribes at the large manor administrative offices. The guard had their own military band which played at dances, balls and castle evening parties as well as after hunting parties. Two guardsmen, albeit painted, decorated in gala uniforms still supervise castle celebrations by the entrance of the Masquerade Hall.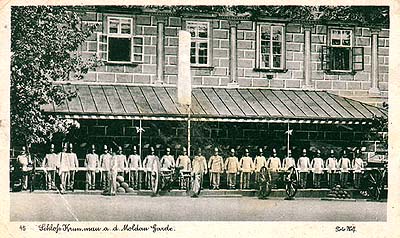 Grenadiers had a parade uniform, called "large", but for ordinary days wore the so-called "small" uniform. The parade uniform consisted of a white overcoat with blue facings and white tight trousers slipped into dark jackboots. On the chest they wore two crosswise slings holding a sabre and a cartridge case. On their heads guard members wore very heavy and tall caps called "medvědice" (she-bearskin caps), with the princely coat-of-arms on the front peak. The stuffing gun was part of the grenadier equipment.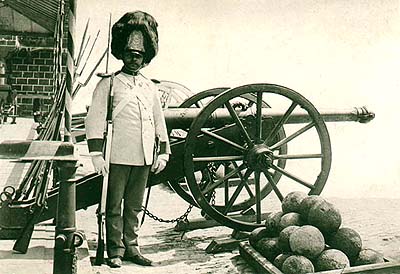 The number of Schwarzenberg guards varied, occasionally consisting of up to 24 men. The leader of a guard was the "hejtman" (a district administrator), usually a veteran army supervisor or another "rank". After World War II the guard had only 3 members. The Schwarzenberg property was assigned to the Czech Land possession in 1947, and upon the Order of the National Land Committee in Prague dated March 1948, the grenadiers´ guard was dissolved. The Castle administration received charge of the uniforms, arms and rich archives.
Other possibilities :
Schwarzenberg Grenadiers´ Guard
(mh)