KKK

Castle Theater in Český Krumlov
The Castle Theatre in Český Krumlov is situated on the Vth courtyard of Český Krumlov Castle behind the moat near the castle\'s west wing. It connects with the Cloak Bridge via a covered connecting corridor leading from the Masquerade Hall to the royal box of the castle theatre.

The first indirect information about the beginnings of theatre culture in the Český Krumlov castle come from the end of the 15th century, although the real blossoming of theatre life came during the reign of Wilhelm and Peter Wok of Rosenberg in the late 1500\'s. In 1675 Prince Johann Christian I. von Eggenberg had a theatre scene built in the so-called Deer Hall in the Krumlov castle, then in 1680 - 82 had a new and independent theatre building built on the 5th courtyard, on the site of the present theatre building. In 1765 - 1766, Josef Adam zu Schwarzenberg had the building reconstructed and equipped with new machinery and decorations. The unique mechanisms for changing the scenes and other decorations were prepared by the Viennese carpenter Lorenz Makh, while the wall paintings, ceiling mural, and curtains and wings were created by the Viennese painters Hans Wetschel and Leo Märkl.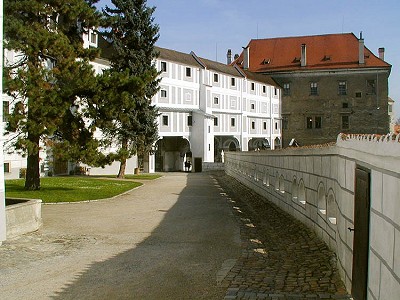 The Baroque Theatre of the Český Krumlov Castle represents a Baroque stage in its mature form. The original theatre fund is preserved in both actual objects such as the building, auditorium, orchestra pit, stage, stage technology, machinery, decorations,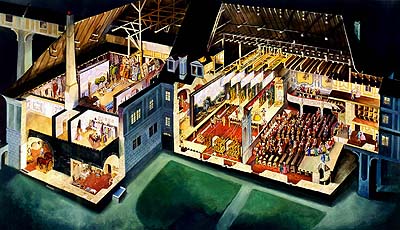 costumes, props, lighting technology, fire extinguishers and so on, as well as in rich archival documentation such as librettos, scripts, texts, partituras, sheet music, inventories, accounts, iconographic material, and other information on theatre life in the 17th to 19th century.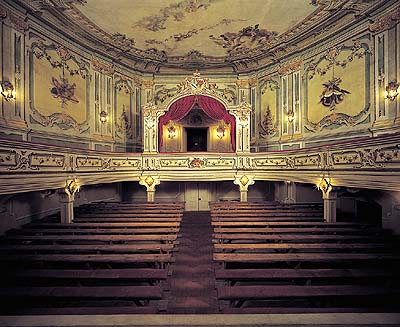 Only one royal theatre in the world is comparable to the Krumlov Baroque Theatre, that being Sweden\'s Drottningholm near Stockholm from 1766. This theatre was also preserved with its original stage technology, although its decorations are from the 1780\'s and already display features of classicism. The Krumlov decorations, in contrast, emerge from the style of illusive European Baroque, the most renowned representative of such being the Italian scenographer and Viennese theatre architect Giuseppe Galli - Bibiena.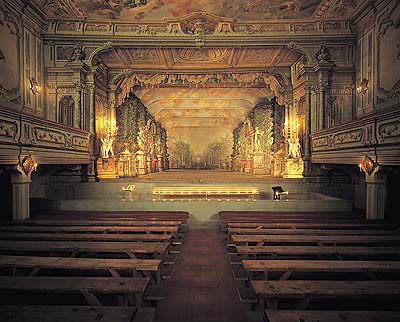 The Krumlov theatre was closed to the public from 1966 to 1997, and after the completion of a large part of the restoration, trial tours of the theatre officially began in September of 1997.
(om)
Further information :
Videorecord of the opera L´ Amor Generoso by Alessandro Scarlatti
History of Theatrical & Culture at Český Krumlov Castle
Layout of the Castle Theater Building
Castle Theater Installations
Tourist Service within the Český Krumlov Castle complex
Foundation of the Baroque Theater in Český Krumlov