KKK

Trial performances in the Castle Theater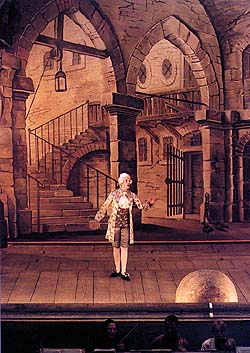 With the ever-progressive work on the restoration of the Castle Theatre, the Foundation of the Baroque Theater in Český Krumlv ponders constantly on the possibilities of its further usage. Today it is certain that the Castle Theatre in Český Krumlov will become one of the few places in the world where it will be possible to study and realize theatre repertoire of the 17th and 18th centuries in an original Baroque atmosphere with the utilization of all period interpretational procedures. The Foundation does, then, aspire towards the renovation of the theatre and its equipment, but would also like to take advantage of the unique possibility to recognize and revive the phenomenon of Baroque theatrical culture. The technical and chronological premises of this unique and most completely preserved Baroque theatre then naturally explain the quite uncompromising inclination of the Foundation towards authentic interpretation of Baroque opera, that is, towards interpretation which validates seemingly outdated historical musical instruments, period vocals and intstrumental techniques, as well as Baroque directing and stage procedures including the movement, positioning, and gestures of the singers. The Baroque Theatre Foundation has been concentrating for some time now on a group of young interpreters - instrumentalists and singers in the ensemble "Cappella Accademica" - which have taken it upon themselves to study the actual stylistic operation of Baroque opera.
In the summer of 1995, the Baroque Theatre Foundation in cooperation with the Heritage Authority České Budějovice, ensemble Cappella Accademica, and a team of castle theatre machinists launched regular operational rehearsals in the castle theatre. These rehearsals, quite unpublicized from the beginning, gradually developed into small experimental productions during which experts, prominent visitors or sponsors of the Baroque Theatre Foundation could watch a short excerpt of a Baroque opera.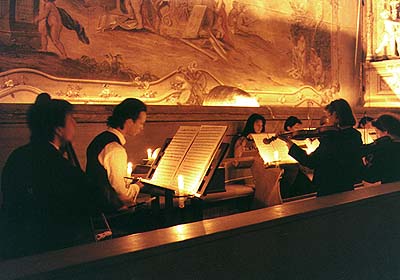 Everything preceding and especially following such a small theatre production can be termed, for the most part, research activity - seeking out answers to questions concerning for example, lighting, sound effects, costume selection, affectation, the use of scenic effects, scene-changing synchronization, and so on. If and when an answer is found, it is confirmed and tried out in the Baroque Theatre itself. Afterwards follow hours, days, months, and even years of work necessary for the completeness of an interpretation which has been forgotten for over two hundred years.
Such an approach is necessary also in the area of period actors\' exression, which principally differs from modern actors\' manifestations. In contrast to a modern, predominantly realistic conception, Baroque acting style was characteristic in that every affect and its alternation was supported by an appropriate bodily stance, facial expression, and gesture. Any sort of naturalistic display of actualistic human behavior or activity was considered inappropriate and unartistic. Singers and actors were trained to communicate the textual content visibly and at the most, expressively, and thus impress upon the feelings of the viewers with the same strength as the extreme poses of Baroque sculptures or pictures might impress upon us today.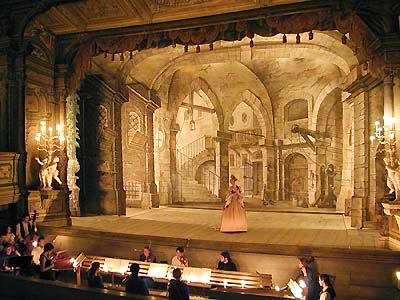 Towards this end they utilized generally accepted codes of poses and movements which were instantly received and animated by the public - this style of acting could be very often even more effective than text or music, so that "even the deaf could understand what is happening and experience it all passionately with the others", as we can read in period descriptions of renowned actors or singers. (Today, unfortunately, such a school of movement is so foreign to contemporary directors that they prefer to invent all sorts of actions in an effort to "animate" Baroque arias, while of course they are working quite against their content.)
If we wish to acquire interpretational practice of opera performances of the 18th century, it is far from sufficient to simply study period acting and singing styles; one must combine an entire order of other elements into the final picture. This is, for example, a question of period social conventions, court etiquette, fashion, and aesthetic opinions in general. We cannot create a finalized idea from only historic material, we must necessarily gather as much as possible from seemingly irrelevant sources, such as period tracts, letters, memos, critiques, and of course iconography.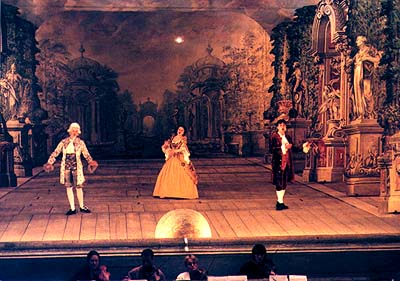 For all contemporary interpreters and researchers, it is of course a basic experience to try out their hitherto theoretical assumptions directly in an authentic environment. This, for them, means not only a great step forward in the attempt to grasp the problems of Baroque stage manifestation in its widest context, but also a never-ending challenge to further study.
(om)
Further information :
Videorecord of the opera L´ Amor Generoso by Alessandro Scarlatti