KKK

Floral Decorations at Český Krumlov Castle
Activities carried out during the restoration of historic buildings also include enhancement of the interior appearance in the guided tours and castle courtyards by period floral decorations. Both iconographic and literary sources bear witness of how each cultural epoch adorned its environment with flowers.
Not only did the floral arrangements serve an aesthetic purpose but it also carried symbolic meaning, especially in the Gothic period. Within the studies of traditional methods of floral arrangements in each period, we discover that floral decorations are an old cultural phenomenon and represent a certain kind of art which faithfully mirrors each age.
This aspect could be used to enliven period interiors where flowers are perceived as a vivid part of interior furnishings. It is interesting how the harmony of interior installation is enhanced when the choice of floral variety as well as the period from which the interior furnishings date is respected, and if the methods of period style arrangements including the suitable type of flowerpot are observed. It creates an illusion of authenticity, a certain historical environment that evokes an original period atmosphere, not to mention intensifying the aesthetic impact on visitors.
Flowers satisfy people\'s longing for beauty, and as their vivid charm is rather transient it can never lose its originality. In the course of restoration of Český Krumlov Castle the re-installations of the No.I and No.II guided tours were gradually carried out (see No.I Guided Tour of Český Krumlov Castle, No.II Guided Tour of Český Krumlov Castle). In addition to construction, restoration, art handiwork, installations and other professional work the types of permanent (decorative plants in flowerpots) and temporary (regularly renewed arrangements of fresh flowers) floral decorations were set for each part of the interiors under reconstruction. The employees of the Castle Park in Český Krumlov who create each decoration endeavour to enhance the stylistic and aesthetic character of the chambers by suitable floral decorations. Flowers and other plants needed for decoration are grown in the castle Supply Gardens.
The fact that the castle interiors are decorated with fresh flowers is highly appreciated by visitors. Regular weekly replacement of floral arrangements in the interiors included in guided tours contributes to the effort to present the interior\'s authenticity.
Training courses and seminars on floral arrangements focused on the floral decoration of a historic interior are regularly held at the castle.
Each castle courtyard has its seasonal floral decoration including mainly large ornamental plants such as palms, laurels etc. which are kept in the castle orangery during winter (Castle No. 61 - Orangery).
During important Cultural and Social Activities at Český Krumlov Castle the festive floral decorations corresponding with the significance of the event via their opulence and appearance cannot be forgotten. The floral decorations are provided by the firm Gardening Services ing. Eva Olšanová.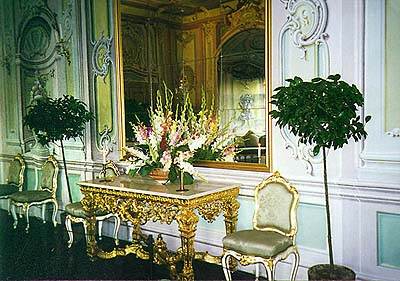 (jo)