KKK

Hall of Mirrors - Rental of Premises
Rental of Premises
The Hall of Mirrors, with its decorative Rococo fresco paintings, is situated outside of the visitors\' tourist routes of the castle. This hall, thanks to its fine acoustic properties, is suitable for chamber concert events and satisfies the most luxurious demands for a prestigious social presentation.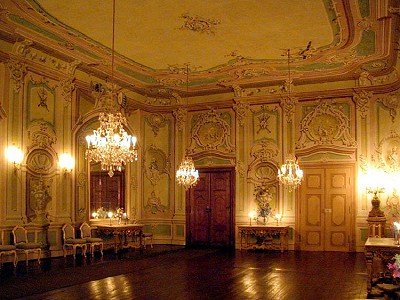 Projects involving dining, receptions, banquets, and especially concerts of classical music are an unforgettable experience for the visitor. The hall is partly decorated with original furniture, adding an even richer late-Baroque atmosphere.
The hall\'s 90-person capacity and various possibilities guarantee an event of commercial, seminary, or presentational character success. The hall is only available for usage in the summer season. Rental fees are dependent on the type of event and length of usage.
Minimum fee for hall rental for a one-time event :
concerts and seminars : 9 900,- Kč
dining purposes : 19 800,- Kč
Complete consultation and contacts :
PhDr. Pavel Slavko
Český Krumlov Castle Administration
Zámek 59
381 01 Český Krumlov
Telephone, messages : +420 380 704 711
Fax : +420 380 704 710
E-mail : castle@ckrumlov.cz

WWW : www.castle.ckrumlov.cz
Further information on facilities and space rental at the Český Krumlov Castle complex