KKK

Castle - Coach-house
Location :
These two carriage-house structures are situated in the northern corner of the Ist Courtyard of Český Krumlov Castle in front of the "long stables" below Castle No. 59 - New Burgrave´s House.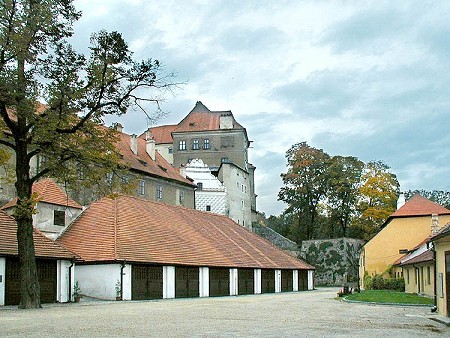 Description :
The structure is a two-part ground-floor building divided in half by an entrance into the former stables. The rear wall of the building is set against Renaissance fortifications from 1619. The construction of the building is very simple; the foundations are walled pillars with wooden gates set between them. The interior is varied with an open attic and a beamed ceiling which is elsewhere plastered. The partitions between individual stalls are bricked. The entire structure is covered by a planked roof.
Historical building development :
The carriage-houses were probably built, at the latest, at the beginning of the 18th century, when the frequency of the Prince\'s visitors and the traffic of his numerous clerical apparati required new facilities. On the 23rd of December 1774 a fire broke out which damaged a part of the first courtyard, and we can assume that the "cart barn" (vozovna) was also destroyed. In 1775 the carriage house was already renewed into its present size. It remained unchanged until 1939, when it was converted into garages within two years.
Contemporary use :
Garages.
(ds)