KKK

Castle - Smithy
Location :
Today\'s unnumbered building of the former royal smithy\'s forms a part of a row of agricultural and residential buildings. At the end of medieval times the buildings were constructed from the original castle walls on today\'s Ist Courtyard of Český Krumlov Castle.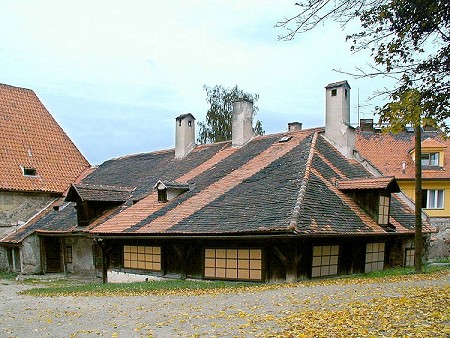 Description :
The building is a walled two-floored structure with a widely overhanging roof on the right side with an extended outdoor space evidently reserved for shoeing horses. All of the interior spaces of the main building are barrel-vaulted with triagonal segments.
Historical building development :
In 1654 the builder Antonio Perti converted this brewery building into a smithy. From that time we have preserved information about the construction of three new chimneys and the vaulting of rooms. The windows of the smithy were also enlarged, and a new attic was built. From that time, the structure has undergone only minor changes. The overall appearance of the building still fits its original function and gives us a picturesque idea of the everyday life of castle life on its agricultural courtyard.
History of residents :
The house originally belonged to the brewery, and after its discontinuation was converted into a smithy in 1654. It served this purpose until the beginning of the 20th century. In 1943, there is documentation that the building was to be a flat for the estate\'s driver.
Contemporary use :
The building is presently unused.
(ds)