KKK

Reconstruction of bear moat in Český Krumlov
The brown bears have been kept in Krumlov chateau since the Rožmberks family ruled this area. They mainly attract the small visitors of chateau. The bars around both moats are in summer crowded by children. Level of bear moat in past years did not meet modern requirements for breeding of these beautiful animals and their total reconstruction seemed to be unavoidable. Planned reconstruction was built on compromise of opposite opinions of relic attention institution and breeding and esthetic needs. Bear moat could not be enlarged and that is why its existing and not too large area had to be perfectly used to serve to its bear inhabitants with the greatest possible comfort.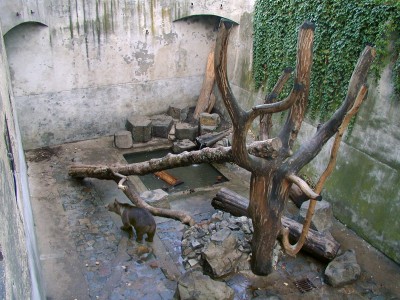 Bears territories in nature cover couple tens of hectares and animals closed in area of some hundred square meters are often attacked by stress due to limitation of their activities and lack of free movement. One of the typical stress signs is so called bearing, when animal swings its body from side to side. To spend time in moat in active way were for bears in paddocks concentrated all elements corresponding to their natural environent. Wild afforested countryside imitate pools designed for refreshing bath and water games, fake waterfall, rocks, or vertical and horizontal large trunks placed in paddocks. Project was realized based on architectonic project of Prague ZOO worker PhDr. Stanislav Špoula, who could use here his long experiences with moat constructions.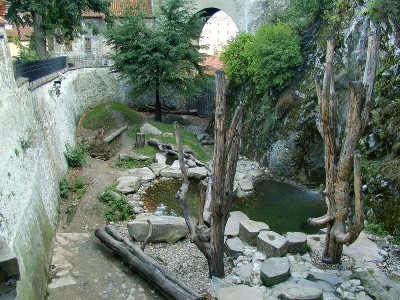 At the beginning the old square basin had to be removed. Instead of an old water flow new oval pool was built placed on foot of rock which dominates to ditch and which creates perfect illusion of wild Šumava nature. By use of circulation pump water from pool is being brought to top of rock and this waterfall gave life to the moat and became an object of interest for our bears. Next to pool is rocky terrace which visually lows moat depth. In the ditch are placed trunks and wooden blocks which serve as mobile toys for bears. At the end were in back part modeled green hills, which grassed parts make such interesting contrast to front part of moat which is created mainly with stones and pebble pavement. For bears was developed oasis where can hide themselves from curious visitors. Total cost of reconstruction of bear moat in term 1995-99 reached over 3 millions Kč. Structure was financed by administrator of the State chateau and castle Český Krumlov Relic institute České Budějovice. Almost 300 000 Kč added the Baroque theatre foundation. Present in form of done work gave companies Hania. s.r.o. (about 200 000 Kč) and Thalia Consult (construction of pool about 200 000 Kč). Prospectively reconstruction and modernization of bear moat interiors are planned.
Further information :
Bear Festival at Český Krumlov Castle
Renewal Study for the Ursinarium in Český Krumlov Castle
History of Bear-keeping at Český Krumlov Castle
Bear Moat at Český Krumlov Castle