KKK

Český Krumlov cubs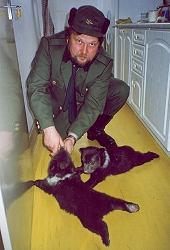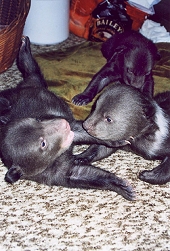 Matěj, Jakub, Vojta, three bear brothers, were born on January 13 2000 as sons of Kateřina in Český Krumlov bear moat. Freshly born bear cub, which is blind and deaf, sucks the first three days of its life from its mother´s teat mammal milk, which contains number of substances important for its further life. Than bear cub is separated , within a week starts to hear and see and ties itself emotionally to its mother, which raises it further. Unfortunately it did not happen to Krumlov cubs, their mother Kateřina refused to take further care of them.
Fortunately mother bear was substituted at first by bear sitter Jan Černý and than by movie maker Václav Chaloupek, who had with bear cubs great plans. Long time before planned Mr.Chaloupek to make bed time series with bear actors and now his opportunity came . Possibility of making film with bear cubs was compensated by special care. Bear cubs must be fed every two hours during night and day by special mixture of milk and other substances. The whole Chaloupek´s family could talk about sleepless nights! Finally everything was managed well and kids can look forward new bear fairy tales.
After young bears are solemnly baptized at chateau Kozel they move to Beroun, where is for them prepared in local parkland comfortable habitation.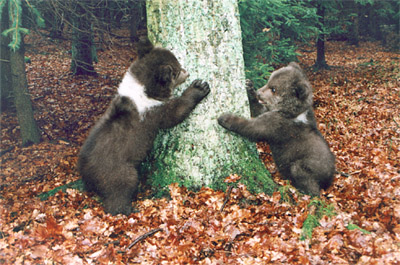 Further information:
Bear Moat at Český Krumlov Castle
Renewal Study for the Ursinarium in Český Krumlov Castle
History of Bear-keeping at Český Krumlov Castle
Bear Moat at Český Krumlov Castle
Bear Festival at Český Krumlov Castle