KKK

Castle No. 184 - Hospital
Location :
Building No. 184 is situated at the site of the present passage to the Deer gardens where a gate-house in the fortification wall used to be - in the Ist Courtyard of Český Krumlov Castle.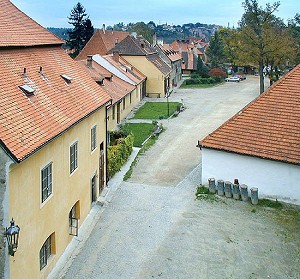 Description :
This house is formed by the two different parts - two-storied on the western side and single-storied on the eastern. The west building is more deeply built and has a French roof while the smaller wing has a simple ridged roof.
History of the formation :
The oldest part of this building is the Gothic wall in the north facade. An extension was built on the single-storied structure in the 1600\'s, now the west wing. The second floor is from 1731 from a project of the master builder Fortini. The next reconstructions were in 1774 and during Classicism the eastern part was added on.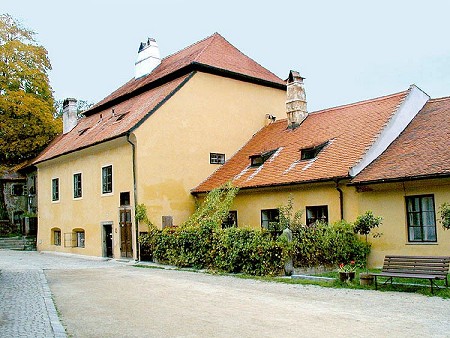 Remarkable architectonic details :
The remarkable details of this building are the entrance portal and the tie jambs of the windows in the western part of the house.
History of the inhabitants :
In the 18th century the building was known as the old carpenter\'s house, which evidently comes from sometime between 1560 and 1640 when a carpenter lived here. Later the building housed a different royal servant until the beginning of the next century. On December 23, 1774, a fire broke out in Castle No. 65 Brewery underneath the carpenter\'s house and destroyed both buildings. In 1775 the building was rebuilt under the supervision of the building inspector von Reisinger, and from that time a hospital was located on the first floor and a flat and carpenter\'s workshop on the ground floor. In the latter19th century the workshop was removed, and in 1862 the builder J. Aulitzky built a water engineer\'s flat on the ground floor and two men\'s toilets on the first floor for the hospital. The hospital was relocated at the turn of the century and flats were built in its place.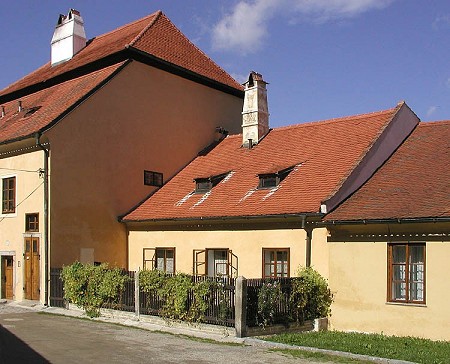 Contemporary usage :
At the present time the building is used for flats and the art studio of the academic painter Hana Hölzel - Čeledová.
(ds)