KKK

Castle No. 59 - Little Castle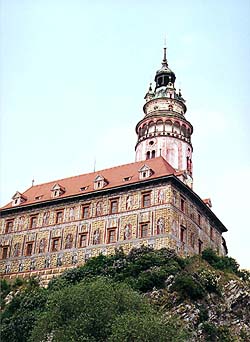 Location :
The Little Castle, the oldest part of the Krumlov Castle is situated on a steep rocky promontory towering above the Vltava River. This structure on the IInd Courtyard of Český Krumlov Castle is single-storied and covered by a tiled saddle roof. The most remarkable detail is its Renaissance facade, even though the core of the building is of Gothic origin.
Description :
The layout is composed of four wings on a quadratic floor plan, on the southwest corner is located the castle tower (see Castle No. 59 - Castle Tower). The oldest is the southwest wing on the western side, and the southern wing is also gothic. Windows were discovered (they were bricked-up) which indicate that the level of the roof was then different than today\'s. The northern wing is already from the Renaissance. On the first floor is a corridor which circles the tower, barrel-vaulted with triangular segments. This corridor joins with the connecting corridor to the Minorite monastery linking the arch of the castle moat between Castle No. 58 - Old Burgrave´s House and the Little Castle. The corrdor around the castle evidently was built in the Renaissance while putting a roof on the original colonnade.
Historical building development :
Under Wilhelm von Rosenberg, architect Baldassare Maggi remodelled the structure and coverted the plain Gothic palace into a Renaissance residence. The tower was provided with an arcaded gallery at the top. In 1591 the tower and Little Castle were decorated with mural paintings and figural and architectural motifs by Beránek - Jelínek, Bartoloměj. In the 1950´s it was adapted into living quarters.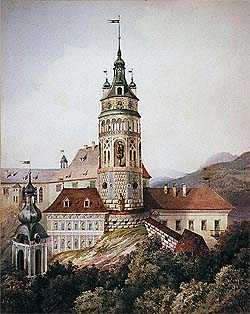 Significant architectural details :
Very exceptional are the mural paintings and fresco facade, partly originally from the Renaissance period and partly restored in the 20th century. Many other details also deserve notice, e.g. the entrance portal of Gothic origin, Renaissance vaults, and others.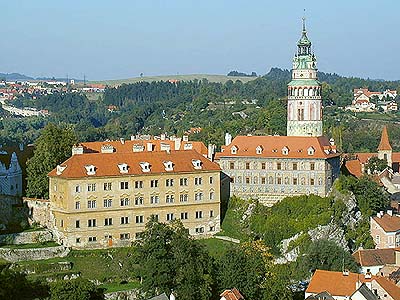 History of the inhabitants :
The castle of Krumlov was first mentioned by the Austrian knight, minstrel Ulrich of Lichtenstein in his poem written around 1240. Due to the expansion of the Upper Castle as a residence, the Little Castle became only a part of the fortification and storage space. It was Wilhelm von Rosenberg who had the Little Castle rebuilt into a Rennaissance residence while the building was still in use as a storehouse. There was a residence and office of the steward of the household around the beginning of the 18th century. In the 19th century there were offices and residence of the director of the domain. In 1947 the tower underwent a large reconstruction. In 1950 it was converted into flats.
Current use :
Today the object is under reconstruction and will be used for cultural purposes.
(ds)
Further information :
Chateau No. 59 - Lower castle, restoration of renaissance mural paintings