KKK

Fountain on the IInd Courtyard of Český Krumlov Castle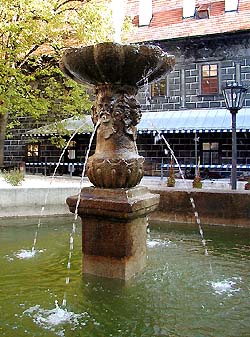 The existence of the fountain on the IInd Courtyard of Český Krumlov Castle was first mentioned in the year 1602. The exact time of its foundation is unknown but it can probably be connected with the so-called Buchhalterie construction in 1578 (Castle No. 59 - New Burgrave\'s House).
The original fountain was not located in the same place as it is today, but was at the corner where the Castle Mint building, a structure on the southern side of the Courtyard formed by a little wall above the slope of the Vltava river, stands today. The Mint did not exist then, and in its present location was a defense wall. Water was brought to the fountain from the waterworks (Castle Waterworks) constructed in 1560 by Jakub Krčín of Jelčany for the new Castle brewery of the time. This building is now located on the Ist Castle Courtyard.
On the slope under the fountain were placed two so-called haltýře (tanks with water flowing through to keep fish alive) which were fed by water coming out of the fountain. In 1746 it was noticed that the water leaving the fountain was damaging the Mint building\'s foundation due to faulty structure. The decision was made to move the fountain farther from the Mint. In the center of the courtyard, in its present location, was built a very solid new fountain, using 1000 bricks, 80 buckets of lime, and 68.21 m2 of construction stone. The original fountain stone slabs were partly applied.
In 1996 the fountain was reconstructed with a renewed water regime, and has become a refreshing element of the IInd Castle Courtyard, especially in hot summer days.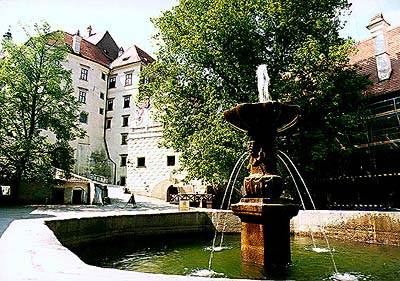 (ds)