KKK

Renaissance Rooms in Český Krumlov Castle
The No. 1 Guided Tour of Český Krumlov Castle leads us through these rooms. The Renaissance Hall takes us back to the time when the Rosenbergs ruled the Castle. The fan vault, decorated by paintings, is in the Eastern, originally Gothic part of the Castle. Between 1574 and 1577 it was rebuilt and extended by Wilhelm von Rosenberg.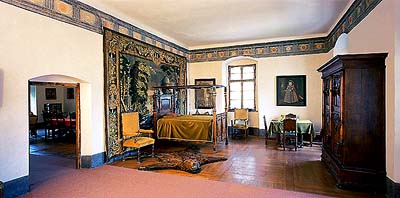 The Hall is part of a larger complex of rooms of an impressive character. The painting "Division of the Roses", dating from 1742 by Antonín Streer, is a copy of an older original. It shows not only the legend about the primal father Witigo and the division of the Roses, but also the appearance of the Castle around 1560. The two portraits on the walls are of the last members of the Rosenberg clan - Wilhelm von Rosenberg and Peter Wok von Rosenberg, aged 17 and 13 respectively.
The Ist Renaissance Room is furnished as a bedroom. The changes in this wing were associated with preparations for the third marriage of Wilhelm von Rosenberg, this time to Anna Maria von Baden. The tapestries on the walls are in Renaissance style of a later period. They were made in Holland in or around 1620.
The IInd Renaissance Room, furnished as a dining room, was originally connected to the first room. This is confirmed by the archives and the painted Renaissance frieze under the ceiling. The IIIrd Renaissance Room retained its original appearance. The painted panel ceiling with its heraldic motifs of the five-petalled rose and the wall paintings evoke the period atmosphere.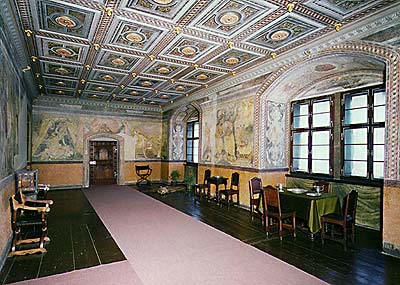 Everything was painted by Gabriel de Blonde in about 1577. The Old Testament themes were inspired by the xylographs of Jobst Ammann, an artist from Nuremberg. They are "Jáhel and Zizero", "Abraham\'s Sacrifice", "The Tale of Joseph", "Lot and the Daughters", and others. (see Wall Paintings in the IIIrd Renaissance Room in Český Krumlov Castle).
The IVth Renaissance Room is also in its original condition with the panel ceiling and wall paintings which imitate tapestries. In the recesses of the walls are the Coats of arms of Wilhelm von Rosenberg and his three wives - Catherine von Brunswick (1534-1559), Sophia von Brandenburg (1541-1564), and Anna Marie von Baden (1562-1583). The painting, "Paris\'s Judgement", by an Antwerpian artist, Jacob de Backer, was painted around 1590. In the room you can also see the portrait of Perchta von Rosenberg. She is now famous in many legends all over Bohemia, as a "good ghost" - The White Lady. (Tales of White Lady).
(mh)