KKK

Castle No. 63 - Powder Magazine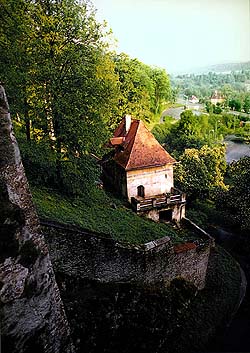 Location :
The structure of the former powderhouse is situated on the northern slope under the castle theatre next to the Cloak Bridge.
Description :
The building has two floors and stands on a walled platform above the former deer park. It is covered by a hipped roof with a built-in attic. A long adjacent structure is attached to the western side.
Historical building development :
The building, originating in the Renaissance, was built onto medieval fortifications with additional supporting walls. A massive wall was added on during Baroque times which cut off a section of the eastern side which might have contained a black kitchen. According to information from 1759, when a flat-ceiling structure is mentioned, we can assume that the valuts which form the ceiling of both stories are Classical. The building was partially adapted in the 1970\'s, when the attic was repaired, and window construction was set into the bottom floor. The parapet wall of the terrace on the eastern side is modern, as is the bricked addition.
Significant architectural details :
Worth noticing is the preserved Renaissance plaster with corner bosage as well as the original castle walls with the bricked-up gun pits.
History of residents :
The older tradition of the building is known as the powderhouse (Pulverturm). The building\'s isolation and relative nearness to the castle would have been well-suited for the storage of certain explosives, mostly for the purposes of the Prince\'s hunting parties. The existence of a "powderhouse" is documented in the oldest castle inventory dating from the beginning of the 17th century, at the end of the reign of the Rosenbergs. In documents from the 19th century the house is mentioned as residential.
Contemporary use :
The building has been unused for about 10 years.
(ds)