KKK

Castle Theater Lighting
Scenery lighting was carried out by the use of candles and small tallow lamps. The Auditorium of the Castle Theater was lit by candles in wall brackets, while the proscenium was lit by candelabras on both sides. These candles would remain lit during the entire performance. The Castle Theater Orchestra Pit received light by a row of candles placed on a long double-sided music stand. The performance area was lit by a kind of candle bar situated on the front edge of the Stage of the Castle Theater, and this bar could be lowered below stage level by a lever system underneath the stage, thus dimming or brightening the front part of the stage.
The wings, hung on moveable frames, were equipped with candles in metal holders placed on rotating brackets fixed onto the back side of the sliding scene frame. Each candle illuminated the scene behind it and was unseen by the viewer. If the bracket was rotated so that the candle holder blocked the light towards the scene, then the stage darkened. This principle worked quite advantageously for Baroque illusionism - by lowering the level of light towards the rear of the stage, the impression of depth perception is emphasized, thus suiting the intentions of the stage painters. If we were to light the theatre by methods commonly used today, i.e. intensive lighting from the front, the three-dimensional effect of the painted canvases would for the most part disappear.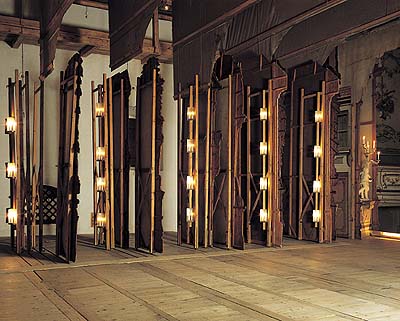 Nowadays, candlelight has been replaced by electrical lighting for obvious safety reasons. A Swedish system, however, is presently in use - an electric copy of a candle, the "flame" of which burns like a candle flame and reacts dynamically to air movements. At a distance of one meter, one can hardly tell the difference between the electric candle and a real candle. These "candles" are being used for the time being only for the auditorium and portal, while in the orchestra pit real candles are used. The stage lights, being unseen, are for now low-intensity lamps, and will likely be also replaced by electric candles.
(om)