KKK

Castle Theater Installations
The Castle Theatre in Český Krumlov represents a unique example of a baroque theatre, advanced both technically and in style, whose original equipment has been preserved in its almost complete entirety. This theatre scene came into existence as a functional and artistic evolution of the work of the renowned baroque scenographer Giuseppe Galli-Bibiena, whose graphic designs from the work "Architettura e prospettiva" served as direct models for certain Krumlov stage scenes.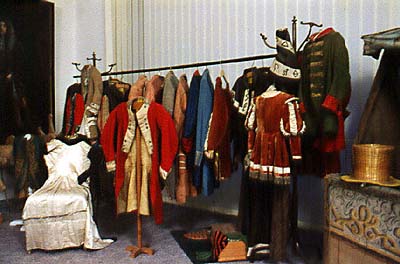 The original theatre fund has been preserved not only in physical objects (building, auditorium, orchestra pit, stage, stage machinery, decorations, costumes and props, lighting equipment, fire extinguishers etc.), but also in rich archival documentation (librettas, scripts, texts, partituras, sheet music, inventories, accounts, iconographic material and other information about theatre life of the 17th - 19th centuries).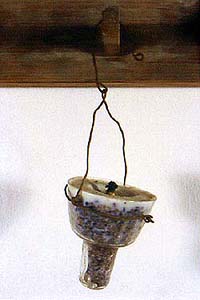 The Castle Theatre in Český Krumlov is extraordinary in the amount of objects which have been preserved, but what is truly significant is its authenticity. The theatre survived the 19th and 20th centuries without undergoing modernization or basic reconstruction. The theatre fund contains a large amount of original objects which were spared modification after use, now preserved in almost untouched condition. The result is the preservation of such extensive sets as 13 basic stage scenes (11 backgrounds, 40 suffites, 250 wings), 540 costume items and accessories, 100 props, 50 special effect machines, and more than 200 pieces of lighting equipment. The unreconstructed building is supplemented by a complete upper state with galley, roping gear and lower stage, all with the appropriate functional apparatus, complete machinery with sliding frames, winches, levers, pulleys, and a movable lighting rack. The floor of the stage is also original, including sliding and removable planks and four trap doors.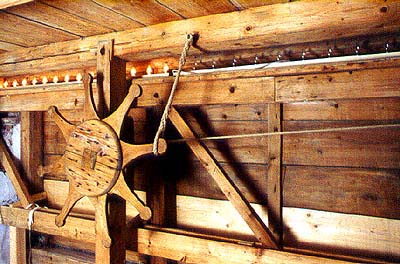 The auditorium is also preserved with its original staggered benches, a horshoe-shaped gallery leading around the upper floor of the theatre interior, and a closed royal box in the building\'s central axis. In the orchestra pit, a two-sided music stand has been preserved.
The operation and period function of the theatre is historically represented by hundreds of preserved items of technical equipment, such as fire extinguishing apparatus as well as operational and technical supplementation (stepping stools, stepladders, planks, ironwork, pots, oil vessels, wardrobes, boxes, suspension equipment, and so on).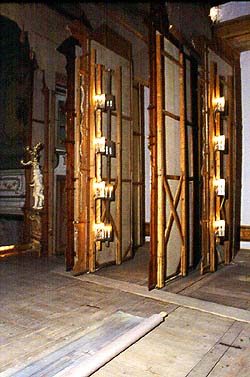 Significant even in the context of European theatre is the amount of preserved repertoire from the 17th to 19th centuries which make up more that 2400 volumes of librettos, texts and scripts from dramas, comedies, and ballets, about 300 volumes of partituras, particellos, piano music and other sheet music (see Eggenberg collection of theatrical items and repertoire and Schwarzenberg collection of theatrical items and repertoire).
Quite significant, and many times the deciding source of information, are archival bits such as account ledgers, order forms, lists, inventories, plans, printed and historical literature, which has been gradually collecting for the last three hundred years in the local archives and in the castle library.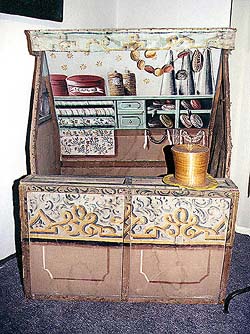 See also :
Machinery and Special-effects Equipment in the Castle Theater
Castle Theater Scenes
Castle Theater Costumes and Props
Castle Theater Lighting
Castle Theater Orchestra Pit
Layout of the Castle Theater Building
History of Theatrical Culture at Český Krumlov Castle
(om)