KKK

IIIrd Courtyard of Český Krumlov Castle
The portal of the passage from the IInd Courtyard of Český Krumlov Castle bearing three coats-of-arms - the Rosenberg, the Eggenberg and the Brandenburg (Coats-of-arms in the Český Krumlov Castle Complex) - on the top leads to the area of the so-called Upper Castle (Castle No. 59 - Upper Castle). The complex of palaces situated around the IIIrd and IVth Courtyard of Český Krumlov Castle came about during the building activities from the middle of the 14th century to the 18th century. Despite the complicated building development, the palaces retained the features of Renaissance style from the most flourishing period in the second half of the 16th century in the rule of Wilhelm von Rosenberg (1535-1592). The most outstanding works are those of architects Antonio Ericero Vlach, Baldassare Maggi d\'Arogno or painter Gabriel de Blonde.
On the adapted and partly rough-hewn rock, below the courtyard there were multi-levelled vaulted cellars built to serve as a reliable foundation for the palace walls, dozens of metres high. The buildings constructed in Gothic style are preserved only in a few places, especially in the eastern part of the Upper Castle (Český Krumlov Castle in the Gothic Period), namely the Chapel of St.George and St.Catherine, mentioned for the first time in 1334, and a Gothic room of unknown purpose next to the so-called Roman room. Other buildings were constructed in the course of the 16th, 17th and 18th centuries.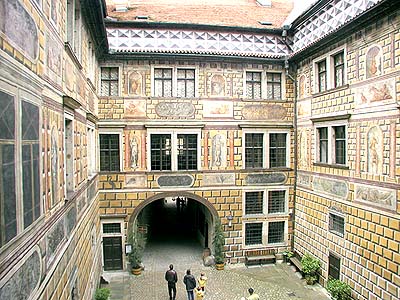 It is interesting that the splendid and mighty character of the Renaissance residence was not disturbed by adaptations carried out in the course of the 17th and 18th centuries, but rather respected. As an example, among other things, the facade paintings in both courtyards (the work of painter Gabriel de Blonde from around 1575) which represent allegorical and mythological scenes and figures from the Greek and Roman history (Wall Paintings in the IIIrd Courtyard of Český Krumlov Castle, Wall Paintings in the IVth Courtyard of Český Krumlov Castle). The adaptations done on the facades in the 17th and 18th century didn\'t destroy the paintings. In the years 1909-1912 the paintings were restored and enriched by Schwarzenberg restorer Theofil Melicher. The interiors of the Upper Castle are open to the public in two guided tours.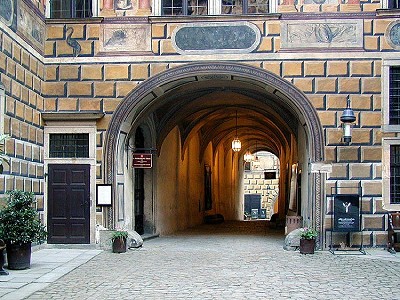 See also :
(mh)