KKK

Castle no. 59 - Mint - Rental of Premises
Rental of Premises
The ground floor of the Mint serves as a central admissions ticket office for all the Castle\'s exhibitions. This floor also contains spaces suitable for cultural and social events for up to about 50 people.
On the building\'s first floor, equipped with telephones, fax, and Internet access, you will find standard gallery areas which are mostly used for thematic expositions of art objects and artworks.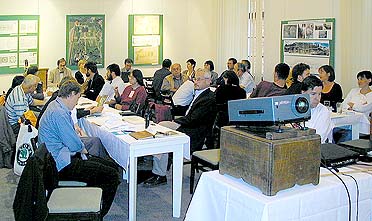 Another area on the first floor, offering an extraordinary view onto the Vltava River and the historic town center, is an ideal center for holding press conferences, seminars, and business meetings. The area, which can be used year-round, offers a chamber-room-like atmosphere for up to 80 people with an office, toilets, and showers to satisfy the more difficult demands. The rental fee is dependent on the type of event and length of usage.
Minimum rental fees of individual spaces at the Castle Mint for one-time events :
Concerts and seminars : 4 950,- to 9 900,- Kč (according to the no. of rooms used)
Dining purposes : 19 800,- Kč

Complete consultation and contacts :
PhDr. Pavel Slavko
Český Krumlov Castle Administration
Zámek 59
381 01 Český Krumlov
Telephone, messages : +420 380 704 711
Fax: +420 380 704 710
E-mail: castle@ckrumlov.cz
WWW: www.castle.ckrumlov.cz