KKK

Restoration of Český Krumlov Castle - now and in near future
The present building and technical condition of historic monuments and the possibilities of their use are very much a subject for discussion among a large circle of residents, people interested in historic monument preservation as well as professionals. The philosophy, methodology and conception of historic building restoration is a rather specific problem which, with respect to a certain subjectivity, interdisciplinary relations and contemporary views or trends cannot be clearly formulated. Polemics, heated discussions and sometimes even pointless disputes raised among those involved provide conclusive evidence of this.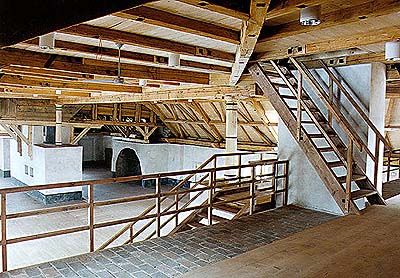 It must be taken into account that in contrast to museum administration or art gallery activities, historic buildings represent the last pieces of a rich mosaic of the past preserved to the present time in a certain entirety and continuity - i.e. natural surroundings, architecture, architectural detail, original interior, furnishings, and archival or iconographical documentation referring to buildings and implying relations that have already disappeared. It is this exceptional value of the authentic environment that should be the subject of interest and assist in the search for ways of restoration.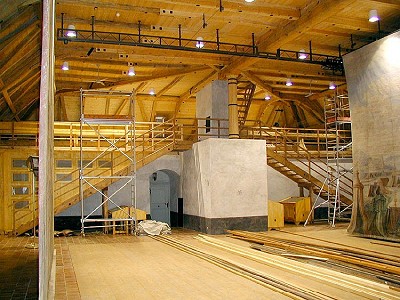 The purpose as well as function of the care of historic monuments has to be borne in mind as well. This largely consists in the preservation of cultural values in their best condition, maximal variety and the highest number for as long as possible. The best thing to do is to preserve the monument in its original appearance including its surroundings, disposition, material structure and other relations.
The current standards and demands on historic objects lead inevitably to compromises. As for the restoration of detail, uttermost authenticity can be implemented. However, when more extensive restoration work is carried out, the limitations of recent technologies, building and technical regulations, current needs, or trendy opinions of contemporary individuals become involved.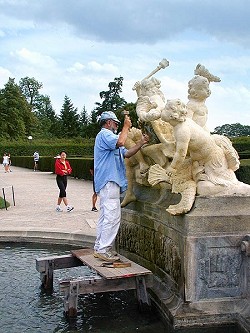 It is foresighted to carry the same approach to both "big values" and seemingly small things within restoration work. Methods of painting restoration can be adequately applied to a comprehensive building restoration. When the restoration of an interior or building is carried out, an original nail can hold the same importance as authentic cobbles, plaster, mural painting, roof timbers, disposition of a building or complex, natural surroundings etc. Those as well as many other principles represent the way the authenticity of a historic monument and the authenticity of its surroundings or "genius loci" could be preserved.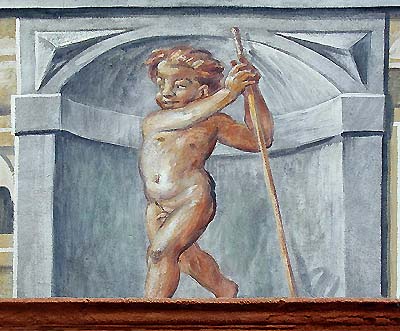 It would be suitable to call even terminologically the renovation of a historic building as restoration, not reconstruction. The following principles of restoration could provide a certain guideline :
close acquaintance with the relations and history of the place, its building development original function, past and present connections to people
place stress on the authenticity of both the complete and the details
search for preferably conservation methods, reconstruction carried out only on a minimum scale
respect original technologies and materials including surface adaptations
very carefully consider the installation of an engineering network
minimise modern technical accessories and, if necessary, prefer classic forms and use classic materials
bring out the natural material structure, not wipe off patina of surfaces
create natural surroundings or focus on period appearance of floral decorations or landscaping
search for new ways of austerity, naturalness and simplicity
for each activity find a period example which should serve as a guideline for panel of experts involved from architect to craftsman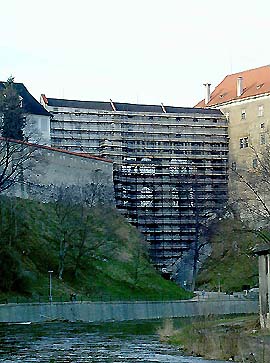 The renovation of historic buildings is a continual search for optimal appearance, and any newly discovered fact leads to re-evaluation and consideration of the steps taken up to now. Over the course of a certain time and in view of new experiences, it has to be said that the optimal solutions were not always found. This is one of the reasons why caution and humility are essential.
The State Castle Český Krumlov is exceptional regarding the extent of cultural and historical heritage in that its character as well as atmosphere are well-preserved. The recent and future restoration work has to conserve this unique phenomenon. The most important building or restoration activities are considered to be those which do not disturb the nature of historical values, i.e. the authenticity, those which do not detract from the interest of the original, and those which carefully restore the original shapes. Generally speaking, it is interior work where more favourable results are produced by the traditional application of the restoration and conservation approach. The repair of exteriors still reflects the pressure of current possibilities, technologies and technical equipment of society at the end of the 20th century.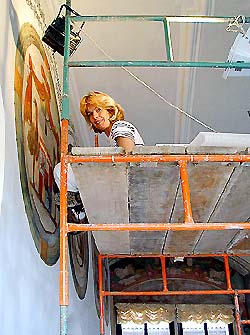 Further informations :
Restoration and Renewal of Castle Tower in Český Krumlov
Renewal Study for the Ursinarium in Český Krumlov Castle
Proposed Restoration and Reconstruction of Little Castle
Restoration of Wall Paintings in the IIIrd Courtyard of Český Krumlov Castle
Study for Utilization of Cellars in the IIIrd Courtyard of Český Krumlov Castle
Re-installation of the Period Interiors in No. 2 Guided Tour of Český Krumlov Castle
Restoration of Wall Paintings in the IVth Courtyard of Český Krumlov Castle
Restoration of the Castle Theater in Český Krumlov
Restoration of Cascade Fountain in the Castle Garden in Český Krumlov
Renewal Study for the Rybářská Area
Castle No. 59 - New Burgrave´s House, restoration of renaissance mural paintings
Chateau No. 59 - Lower castle, restoration of renaissance mural paintings

(ps)