KKK

The Old Pineapple Greenhouses
Location :
The old greenhouses are situated close to the southern facade of the orangery (see Castle no. 61 - Orangery).
Description of the structure :
At the present time the old greenhouses consist of three naves of greenhouses: the saddle corridor, the connecting corridor with the boiler-room, and the brick structure of the fuel storage with the saddle roof.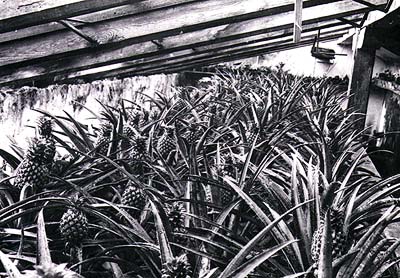 Historical development of the construction
Even after several reconstructions in this century, the building has more or less kept the original allocation of greenhouses as they were established in 1844. The greenhouse design (the project was initiated by prince Johann Adolf II. zu Schwarzenberg) is preserved in the Krumlov archives and suggests an adaptation of the original older pineapple greenhouse, while parallel alongside it another greenhouse was built, again with two naves. This large building (34,14 m long) permitted the reproduction of pineapple seedlings and the maturation of grown fruits which were a welcome variation to the festive tables of the court of Schwarzenberk not only in Český Krumlov, but also in Prague and Vienna where they were shipped.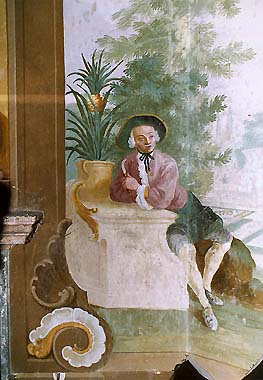 Pineapple cultivation continued even into the 20th century (this is shown on photographs from the 1930\'s from the funds of the State regional archive).
The overall condition of the wooden greenhouse structures was getting worse, so in 1955 a general overhaul was carried out on the buildings. During this overhaul the old channel heating system in the greenhouse\'s two naves was substituted with hot water heating and metal construction was installed into the saddle roof of the greenhouse. The boiler, metallurgical material, and glass panes were brought over from the greenhouses of the castle gardens in Hluboká nad Vltavou, which were at that time liquidated. One of the naves of the greenhouse was left in its original state with a wooden construction (it crashed down in the 70\'s) and another one was demolished and a fuel storage was built in its place.
The last repairs were made in 1997, when the building which had previously collapsed was finished.
Contemporary usage :
The greenhouses are used for growing seedlings of annual plants for the large flowery beds (plantations) in the castle garden and for cut flowers (see Decorations at Český Krumlov Castle).
(jo)