KKK

Castle No. 62 - Tavern Markéta
Location, description, original house name :
No.62 - originally "guard´s house of the Castle Gardens in Český Krumlov", today the Markéta tavern - forms part of the northwestern castle wall in the front of the building at a point in the gardens where the upper garden drops to the level of the lower parterre. Part of the building is also formed by a gate which forms a counterbalance to the main gate in the southeastern castle walls.
Historical development of the construction :
During restoration of the gate\'s facade it was found that in the past, this gate contained a cambered entry of the same dimensions as the southeastern gate. Later on, probably together with the construction of the building itself, the passage was bricked up and the only entrance to the sturcture was through a door in the stone jamb.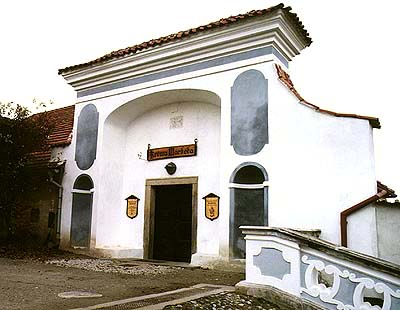 The existence of the house is documented on the plan of the "New garden" (dating around 1702) that shows this structure in almost surprisingly detail ( albeit badly scaled ) in contrast to a very simply drawn garden. The structure was accessible only from inside the garden.
A room with three windows plus a room with an oven, lit up by two windows, were accessible from the entrance hall. From this second room a back room with two windows was accessible.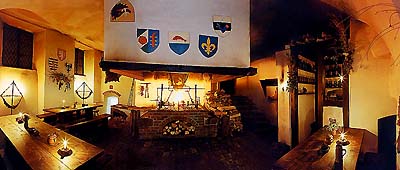 A shed was built against the house on the northern side to the garden wall and was accessible by a special entrance only from the inside of the garden.
The building was modified many times, as is documented in preserved plans from the 19th and 20th centuries. It is documented, however, that during the building\'s entire existence it was used for the purpose of a residence for the guard o fthe castle gardens. It ceased to serve this function in the 1970\'s, when it was equipped with restrooms for visitors of the gardens and of the revolving auditorium.
Contemporary use :
The restrooms were reconstructed after 1989, and the other spaces were adapted to house a period tavern with a reconstructed black fireplace and a chimney cowl. The tavern has been named Margaret the Knight\'s tavern from the beginning. The operator of the installation is the firm Auviex s.r.o.
(jo)