KKK

Paraplíčko - Fortification
Location :
The so-called paraplíčko (something like little umbrella) is a two-storeyed brick structure with a rectangular ground plan, ending on its shorter sides into oval bastions. It is situated in the southwestern corner of the supply gardens area of the castle gardens.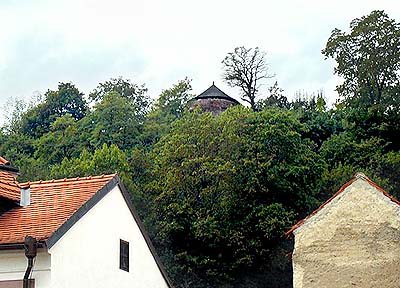 Description :
The central part with its desk-sheet iron roof contains a cellar with rolled vault and two vaulted passes plus a wooden ground floor construction. This part of the structure is closed on both sides by oval bastions. The southwestern bastion is open while the southeastern basion is connected via the undergound with the neighboring cellar. The second floor of the bastion is formed by a small sill wall and wooden umbrella-shaped roof, which, with the help of a lever mechanism, can be lifted about a meter above the sill, thus allowing the visitor a beautiful view of the Český Krumlov panorama.
Historical development of the construction :
The original structure of the fortification comes probably from the 15th century, even though the rolled brick vault with the sector has a younger origin. The cellar was shortly afterwards used for vegetable storage.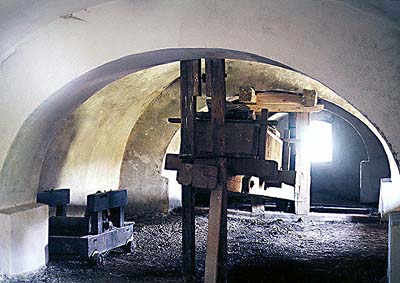 Information from 1815 mentions the decision to build "at the old bastion in the lower part of the kitchen, or Plášťové gardens" an open lookout onto the city and surroundings. Construction work finally began in 1824. The lookout was built with a conical shingle-covered roof which rested on a massive wooden column. This was sunk deep through the vaults of the cellars where the lever mechanism was hidden, thus allowing roof movement. A round wooden bench was placed around the sill wooden walls.
The mechanism began to have problems as early as 1830, when it became necessary to shorten two levers and equip them with handles. At the dawn of the 20th century a new wooden structure appeared with a desk roof over the central part of the structure.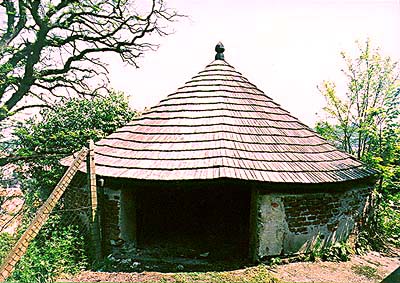 After the second world war the structure gradually dilapidated. In the 1970\'s the desk roof was repaired (shingles were replaced by sheet iron). At the end of the 80\'s the roof was restored and repair work of the cellars was launched.
Contemporary use :
The structure is not in use at the present time. In context with the proposed recontruction of the sightseeing path over Rybářská street (see renewal study for the Rybářská area), one branch of which extends in this direction, the structure is being considered for adaptation towards services to castle visitors.
(jo)