KKK

Castle No. 46 - New Pharmacy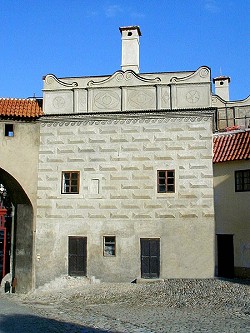 Location :
This building is located on the left side of the main entrance to the castle near the Red Gate. The rear part of the building faces the Ist Courtyard of Český Krumlov Castle.
Description :
The facades are of Renaissance origin with sgraffito (1556) ending at the attic.The building is two-storied with a partial basement, and has modern style roofing laying on the original shingles. The connecting corridor went through the west part of the building, connecting the Minorite monastery and the castle.
History of its formation :
The development of its construction reaches back to medieval times. It seems that the beginnings of the walled core are from the 14th century, when the house was evidently single-storied. The house was radically reconstructed in the 1620\'s or 30\'s, when a second attic story was added. This reconstruction is characterized by the artistically complex early Renaissance window jambs with cornices, which are characteristic even for other structures of South Bohemia from the same period. The frontispieces are from a later period and evidently are related to the origin of the sgraffito facade from 1556. During Classicism a second story was added, and the building was stabilized with tow bars and the basement was underpinned. In 1913 the building was equipped with a pharmacy. The facade was then supplemented on the Latrán side with a monumental portal, and three windows were installed in the side.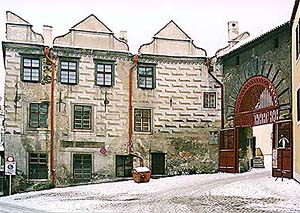 Remarkable architectonic details :
Very interesting are the mentioned window jambs and sgraffito facades. In the interior there is a Gothic portal to the left of the entrance hall.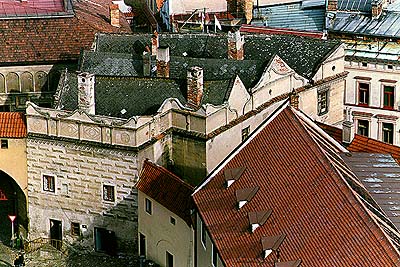 History of the inhabitants :
The house was connected with nobility from the very beginnings of its existence. The first written mention from 1541 lists Hřebenáře of Hřeben as the owner; he ranked among the minor service nobility of the Rosenberg court. In 1550 the house was transferred into the ownership of Mikuláš Humpolec of Tuchoraz, the first clerk of Wilhelm von Rosenberg. In the 1570\'s, the house was acquired by the knight Jáchym Metich of Čečovo na Vizni a Puchelsdorf. During the reign of Peter Wok, Metich donated the house to his servant Jan Kryštof Koferleyn for his services. He then sold the house in 1610 for 700 groschen to Mikuláš Snejbersdorf of Tryonštejn. After his death, his children sold the house to the burgher Matěj Nedopil, who then sold it to the new Eggenberg nobility. The house has been the property of the Krumlov castle up until the end of the 20th century, during which it also served as a residence for a doctor. In 1913 the ground floor was adapted into the castle pharmacy and served as such until the 1950\'s, when it was converted partly into a boiler room and partly into public toilets from the I. courtyard.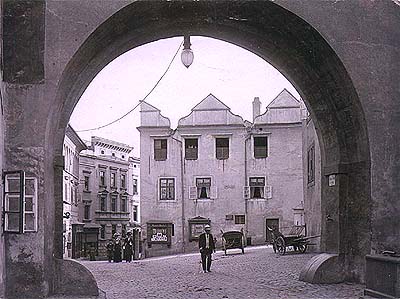 Current use :
The object is presently under reconstruction.
(ds)