KKK

Renewal Study for the Ursinarium in Český Krumlov Castle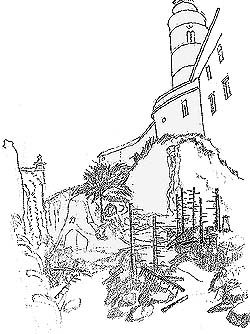 The History of Bear-keeping at Český Krumlov Castle goes back as far as the first half of the 16th century during the Rosenbergs\' residence, in whose coat-of-arms bears appeared as heraldic animals. Brown bears (Ursus arctos) have thus been kept at the castle for several centuries. This uninterrupted tradition is unique both in this country and worldwide. At present the bears are an inseparable part of the atmosphere of Český Krumlov castle. Their presence is a refreshing experience for both adult and young visitors to the castle.
The present conditions of bear keeping in the so called Bear Moat at Český Krumlov Castle under the bridge between the Ist and IInd castle courtyards is such that the enclosures and hibernation rooms are no longer suitable by today\'s standards. For this reason, a renewal study for the bear moat has been drawn up. The aim of the study was to comply both with the requirements of the protection of historical buildings as well as with the exhibition and operating demands of the ursinarium. It is, for example, impossible to enlarge the area of the bear moat, no matter how desirable it would be for the animals; this would interfere with the historical and architectural character of the surroundings. On the other hand, it is necessary to make the enclosure as acceptable as possible for the life of the animals.
The study drawn up by ing. arch. L Vonášek in cooperation with the a specialist of the Prague Zoo, Mr. Kotek, resolves this problem quite successfully. According to the study there would be pools with running water in both enclosures, and boulders and both erected and fallen tree trunks would create the basis of the natural environment of the bears. New auxiliary boxes, a maternity ward and a breeding base are to be built in the adjoining cellars under the castle.
The technically demanding renewal depends largely on financial possibilities, so the reconstruction of the castle moat proceeds only in separate stages. For example the construction of sewage and water supply sufficient for bearkeeping was a big problem until recently, due to the height difference of approx. 5 metres. Thanks to the helpfulness of sponsors and of the Heritage Authority in České Budějovice, a complicated bore has been led out from the collector shaft into the eastern corner of the bear range.
The whole project is aimed at cultivating the bear moat and at creating suitable conditions for further bearkeeping that would satisfy principles of keeping wildlife as well make the experience of especially the youngest castle visitors even more pleasant. It is the youngest castle visitors for whom the entertaining and informative event is traditionally organized -the Bear Festival at Český Krumlov Castle, held on the occasion of the bears´ birthdays and at Christmas.