KKK

The Red Gate

Location :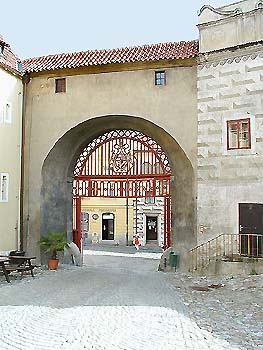 The gate is found at the entrance to the Ist courtyard of Český Krumlov Castle from Latrán between the houses Castle No. 46 - New Pharmacy and Castle No. 57 - Salt house.
Description of the Building:
From the street Latrán the gate is made up of a double winged wooden gate embellished with the Schwarzenbergs coat-of-arms carved in its upper part. The gate is set into a brick arch with a corner of blockstones. The semicircle barrel vault in this place gradually transforms into a segment arch on the side facing the Ist castle courtyard. On the floor above the arch is a connecting corridor leading into the Minorite monastery. The saddle roof is simple and is covered with hollow tiles.
History of the Construction :
In the beginning, a gate used to stand in the wall of the advance fortification of the Lower Castle, then in the course of the 15th century new working quarters were gradually added onto this wall. In the last quarter of the 16th century the area, which had been continuously built up, enabled such demanding tasks as the multi-level corridor connection of the castle with the monastery and the garden in Latrán - Nové Město (New Town). The gate received its present-day form in 1748 while the wooden railing dates from the 19th century. The gate gets name from the traditional red paint.
Significant Architectural Features :
Wooden railing bearing the Schwarzenberg coat-of-arms.
(ds)