KKK

Bear Moat at Český Krumlov Castle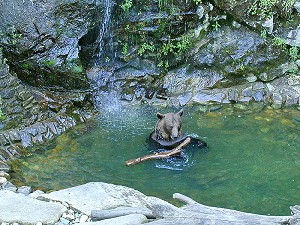 The castle moat between the Ist and IInd courtyards began as part of the original Gothic fortification and served mainly a protective function. It protected the castle wall and the tower gate which enabled access to the IInd castle courtyard, and had a wooden drawbridge. Under the reign of Wilhelm von Rosenberg in the 16th century, the wall and the tower gate were pulled down and an administrative building - the Buchhalterie (New Burgrave´s House) was constructed in their place. A Renaissance wall probably arose on the other side of the moat at the same time, which was reconstructed in the late Baroque period. In 1760 the original wooden drawbridge gave way to a stone bridge with the statues of the Virgin Mary and St. Joseph, giving us the present shape of the bear moat.
The history of bear-keeping at Český Krumlov Castle goes back to the 16th century, the era of the last Rosenbergs. Bears have been kept in the bear moat since 1707.
In year 1995 renewal study for the Ursinarium in Český Krumlov Castle has been drawn up, based on which reconstruction of the bear ditch in term 1995-1999 was realized. This reconstruction was supposed to cultivate both bear moats. Mainly among children visitors is popular the Bear festival at the chateau Český Krumlov, where has been performed since 1995. In 1999 after bear moat reconstruction was finished moved to the Ursinarium two bear couples: old occupiers Kateřina with Vok and their son Hubert with young female bear Marie Terezie, which has been donated to Krumlov chateau by Innsbruk parkland.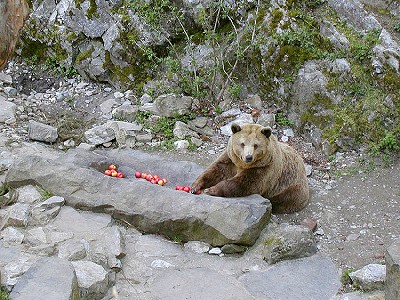 In January 2000 two cubs were born to Kateřina. Bear breeding is ensured mainly by chateau administrator the State office for protection of monuments in České Budějovice, sponzors mediated by the Baroque theatre foundation (let´s at least name Prague attorney M. Hanzalová) and visitors conduce into boxes placed on moat bars.
(ds)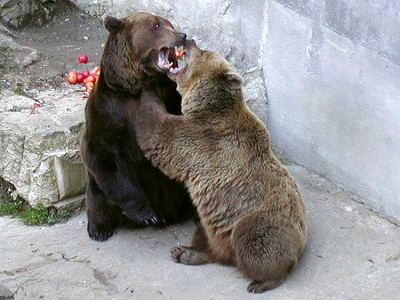 Further information:
Reconstruction of bear moat in Český Krumlov
Český Krumlov cubs
History of Bear-keeping at Český Krumlov Castle
Bear Festival at Český Krumlov Castle
Renewal Study for the Ursinarium in Český Krumlov Castle