KKK

Castle No. 59 - Dairy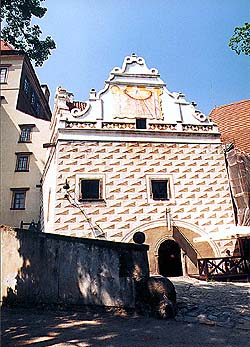 Location :
The building known as the Dairy is located under the Upper Castle (see Castle No. 59 - Upper Castle) on the edge of the original second castle moat between the IInd Courtyard of Český Krumlov Castle and Upper Castle.
Description :
The house is two-storied with a quadratic layout. The facade facing the courtyard is decorated with Renaissance shields. On the north side of the building is another structure which has no operational connection with the building. The ground floor ceiling is vaulted, and the entrance is through a semicircled Renaissance vaulted portal. There used to be an open arcade in place of today\'s portal, but today this is indicated only by marks on the facade. The first floor holds three stories, one of which is vaulted while the other two contain wooden-beamed ceilings. In the room on the southern side of the building a black kitchen of Renaissance origin has been preserved. The first floor is accessible from outside, due to the building\'s situation on a slope, through a hewn Gothic portal. This portal together with the preserved windows attest to the building\'s Gothic origin.
Historical building development :
Originally the building served as a part of the fortifications of the Upper Castle. A staircased tower was here from which a wooden drawbridge provided entrance to the Upper Castle. The Dairy obtained its present appearance during the reign of the last Rosenbergs during the 16th century, when a wooden corridor was built to allow vehicle entrance into the Upper Castle (see Corridor Connecting IInd and IIIrd Courtyards of Český Krumlov Castle).

The building thus ceased to serve its function as a pathway to the castle as well as its defensive function, and was used for agricultural purposes. Dairy products were prepared here (butter and cheeses) for the castle personell, hence the modern name of the Dairy. Later the building was used for clerical apartments.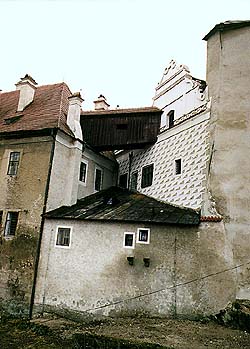 Significant architectural details :
The building draws attention by its Rennaisance sgrafito facade and Renaissance shields. Also notable are the Gothic portal and sundial on the facade.
Legend :
Once the place was used for wood storage for the castle. The castle servants quite disliked coming here for wood - it was said to be unsafe. The story was that someone had died a violent death here, and the soul of the deceased was treacherous, playing evil tricks on people. Once a pile of wood nearly fell on one servant, who managed to jump out the way just in time.
Current use :
Churn the Castle Restaurant
Czech Culture Gallery - Czech Ceramics Design Agency
(ds)