KKK

Cloak Bridge
Location :
The bridge "na plášti" or "on the cloak" spans the moat on the western side of the Upper Castle (Castle No. 59 - Upper Castle). The bridge derives its name from the fortifications which used to protect the western side of the castle.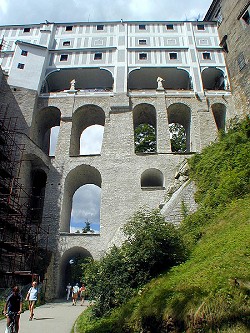 Description :
The three-storied covered arched bridge stands on massive stone pillars. This technically daring and impressive work connects the IV. and Vth Courtyard of Český Krumlov Castle.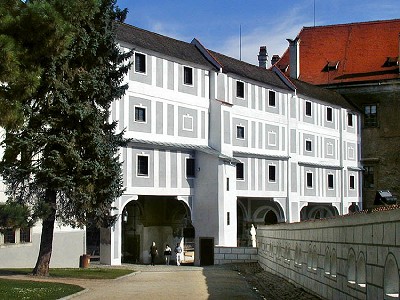 The lower passage links the Masquerade Hall with the theatre, and the top passage links the Castle Gallery with the castle gardens. To make our way through the connecting corridor we could go across the roof of the castle and go as far as the Minorite monastery on the Latrán.Unfortunately, that\'s impossible to do today.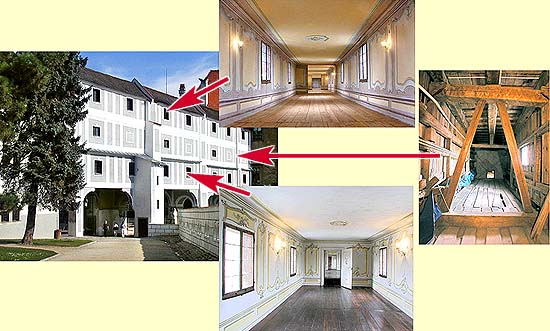 History of its formation :
The first mention of the Cloak Bridge can be found in texts dating from the15th century, when the bridge was probably built of wood. During the rule of Rudolf II of Habsburg it was mentioned as a" draw-bridge with gate and wicket". As the new owner of the domain, Eggenberg ruler Johann Christian I. von Eggenberg began to build a new wooden bridge leading to the upper castle garden in 1686. The first wooden part of the covered corridor going to the garden was only half built in 1706. This entrance, which still exists today, was located at the gallery on the second floor of the mansion. The Castle Theater in Český Krumlov was connected by stairs to the corridor.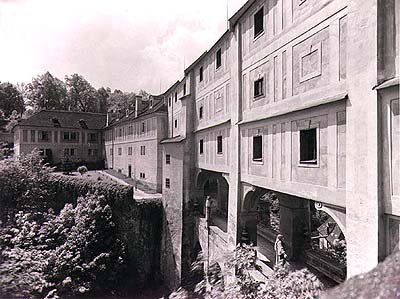 From 1707 - 1708 the lower passage was built, which linked the Masquerade Hall to the royal box in the theatre. Toilets were built near the royal box, and the supporting pillars carried the waste away. During the invasion of the French army in 1741 the long corridor above the Cloak Bridge was pulled down, then was rebuilt higher from 1748 - 1749. In 1764 the long project of remodelling the bridge began. The main part was replaced by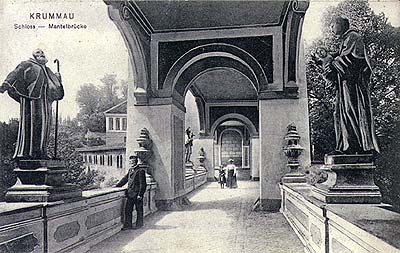 a stone bridge connecting the IV. and V. courtyards, and the lower corridor was reconstructed. The connection of both corridors was finished in 1777 by cutting away the truss of the lower passage. The bridge has looked about the same ever since.
(ds)