KKK

Musical Pavillion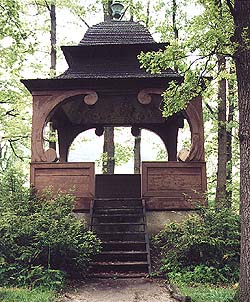 This small arbour is situated in the upper part of the Castle Gardens in Český Krumlov nearby the Summer House Bellarie. This wooden building is placed on a higher base wall of a square foundation - the arbour itself is accessible via a wooden stairway off to the side of the main path. On the four supporting columns sits an attic roof topped with a decorative copper vase. A peripheral rain gutter is set between the columns. The scroll\'s ornament, connected by large arches, softens the roughness of the supporting construction. This method of creating window openings was used several years later in advanced form for the upper floor of the Bellarie.
The origin of today\'s musical pavilion dates to the year 1752. In the same year, hornbeams in the shape of a rectangular maze were planted in a complex arrangement in the southwest direction of the summer-house Bellarie. The arbour was placed in the middle of the maze, and the higher level of the floor allowed the garden visitors to watch the maze from a slight bird\'s-eye view. The upper edge of the shaped hornbeam hedges probably did not overlap the level of the ledge.
In 1752 František Jakub Prokyš painted the ceiling fresco with illusively shown plastic elements in different shades of grey colour (ledges, scrolls, auricle ornaments) and allegorical scenes of the 4 seasons. The maze around the pavilion did not last even a century - it was removed in 1843.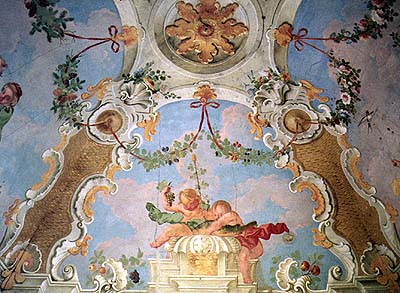 On a plan from 1879 there is, among other Český Krumlov castle constructions, mentioned "a view of the pavilion in the English part of the garden" then the plan in view of the construction. The schematically representing group of trees near of the arbour already proves the romantic style of buildings established at that time. The drawing shows the building\'s details that no longer exist today - the outer side of the ledge was divided by cassettes, and a two-winged gate closed the entry to the arbour.
Today\'s garden\'s adaptation around the pavilion - the group of more than 100 years old oaks that enclose it - inhibits the previously dominant position of the building\'s architecture in the contiguous garden space. The pavilion requires restoration of the wooden construction as well as restoration of the original wealth of colours. Restoration of the shingled roof and decorative copper vase on the roof top has been already carried out.
The musical pavilion is, in addition to its historical value, predominantly an individual example of an intact preserved small garden building from the rococo period.
(jo)